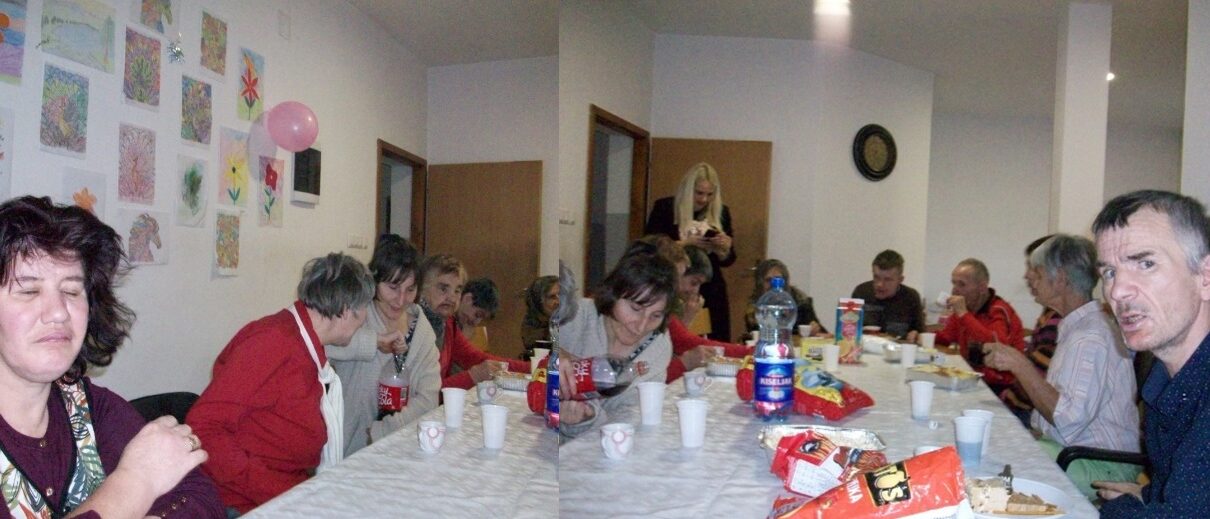 Association for Social Inclusion of Persons with Intellectual Dissabilities    Canton  of Tuzla work for inclusion and human rights people with intellectual disabilities in Bosnia and Herzegovina.Association from 2000. year  established  a model "Living in the community" for  persons with Intellectual Disabilitiestaken out of institution to educate them in self advocacy and integrate them into the society. USU " Garden" group home offers people with disabilities a safe home and possibilities to learn  and gain abilities to function in their very best way.
Begining in 2018. Loza Foundation develops projects in Bosnia and Herzegovina for peole with disabilities who is vilnerable group in society.
In the fall of 2018, the president of the Loza Foundation, Sabina Grubbeson, stayed in our USU " Garden" group home for seven days and got acquainted with our work and needs through direct contact with users, staff and documentation
USU Garden needs renovate the group house to offer a more qualitative housing thst includes education and activities where people with disabilities are in focus to develop their skills and become that very best version of themselves.  When the USU Garden completes the upper of the house, another 6 people with disabilities from institution will be taken out, rehabilitated and goven a better future. That will also results in the employment of another two people at USU Garden.
Loza foundation want to invest in the group home USU Garden in a long term relationship. To contribute to deinstitutionalisation and for USU Garden to be a role model for how people with disabilitiie should live.
Appreciating our work as an innovative and currently the best possible model for the care of people with intellectual disabilities in BiH, it offered long-term cooperation and donations for:
Construction works on the attic to equip for two residential units to accommodate 6 new people;
Purchase of a large boiler and solar panels to and central heating on the attic;
Purchase of a new vehicles, or less for a used one, to work for the users and transports of vegetables and equipment concerning the USU Garden;
Purchase of a new kitchen;
Balcony fences and access ramps at the entrance to the house.
RESULTS /BENEFITS OF THE PROJECTS
The donation of the Loza Foundation came in historical times and a more critical period for further work of the Association. There was a lack of financial resources for the sustainable development of the inclusion model in the Tuzla Canton and there was a risk of re-returning users to the institutions. Thanks to the donation, significant results were achieved and improved quality of life of the user:
– By building and equipping 3 new housing units, accommodation for 6 new users and continued cooperation with the Center for Social Work on Deinstitutionalization and Prevention of Institutionalization of Persons with Intellectual Disabilities.
– Three new workers (1 social pedagogue, 1 cook, 1 agricultural technician) are employed and professional assistance and support is provided 24h. The safety and protection of users against injuries, fires, fleeing from home, arrival of foreign faces, etc. has been increased.
– The number of undesirable forms of behavior (aggression, auto-aggression, impaired sexual behavior, etc.) has decreased.
– By purchasing a new van car, it is possible to travel to the city and take a part of what the city offers for people in the accommodation group, to walk, to the cinema, to the museum, to church visits and the mosque, to visit the family, in the summer period that go to the lake or to the sea, etc. To contribute to the inclusion of persons and the quality of their lives. It is possible to transport users to a doctor and transport employees.
– Electricity costs have been reduced by about 1,000 KM per year because solar energy is used to heat water .
– Procurement of balcony fences and ramps that provide the necessary safety and protection of persons with disabilities.
-The kitchen is completely renovated: the old pellet for floors and laid ceramics is taken down, it is purchased: a new electric stove; sink, racks, stainless steel table, which ensures easier maintenance of hygiene.
2.1.Internal construction works on equipping the attic for thre residential units to accommodate 6 new users;
2.1.1 New residential unit 1.
2.1.2 New residential unit 2.
2.1.3 New residential unit 3
2.2. Procurement of a large boiler and solar panels to provide hot water
2.3. Balconies fences and safety ramps
2.5. Procurement of a new kitchen
In cooperation and at the request of the Center for Social Work Tuzla, 6 people with intellectual disabilities were accommodated.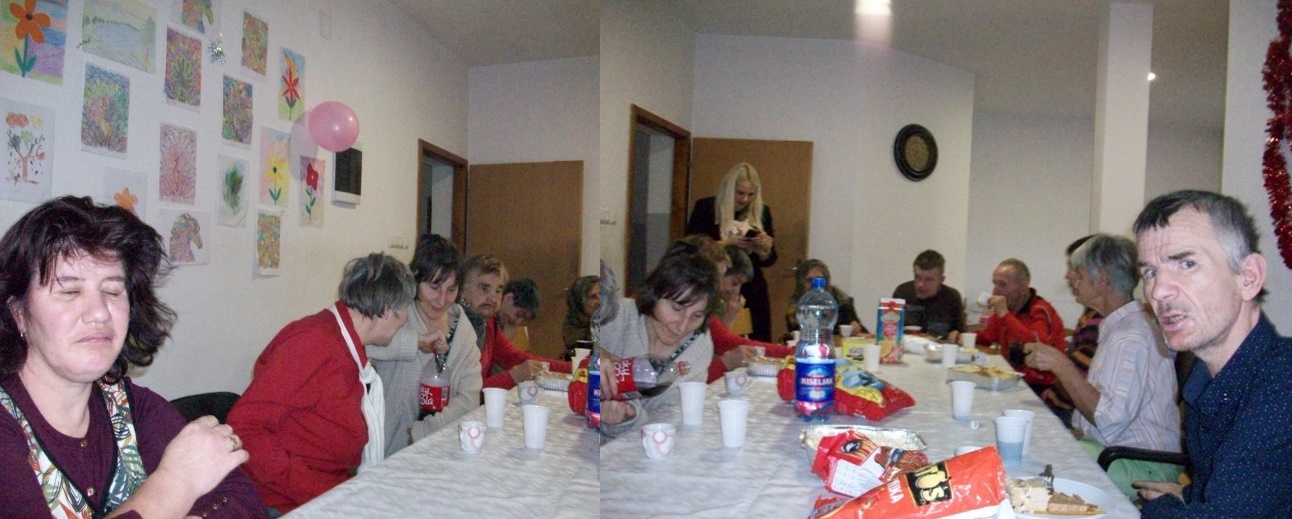 Celebration of Christmas and New Year holidays