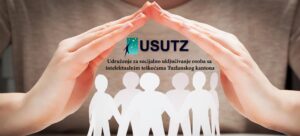 The Association for Social Inclusion of Persons with Intellectual Disabilities (USU) is a non-governmental, non-profit and humanitarian organization founded in Tuzla in September 1998.
Mission: To encourage and actively participate in the inclusion of people with intellectual disabilities in the life of the local community as equal citizens and as citizens who can enrich the community.
Vision: People with intellectual disabilities contribute to society as active citizens in all spheres of life. The contribution must be recognized as a promoter of society in the same status as other citizens.
Activities are directed towards the establishment of a social-inclusive model in the care of persons with intellectual disabilities through deinstitutionalization, prevention of institutionalization, support for living in the community, support for employment and work engagement of persons with intellectual disabilities.
The management administration of the Association are: the Assembly of the Association, and the Presidency of the Association.
With the expansion of activities to agricultural production, the USU "Garden" Center for education, rehabilitation and professional training of persons with disabilities was registered. Through social entrepreneurship, the sustainability of the established model, the employment and employment of persons with disabilities and the improvement of their quality of life are ensured.
The following contributed to our success:
Ministry of Labour, Social Policy and Return of the Government of TK,
Association for Promotion of Inclusion from Zagreb,
Open Society Institute-Mental Health Initiative MHI- Open Society Soroš,
Croatian Caritas and Caritas of the Bishops' Conference of Bosnia and Herzegovina,
Municipality of Tuzla,
UniCredit Foundation, Mozaik Foundation,
LOZA Foundation.
USU "Garden" Center for Education and Rehabilitation of Persons with Disabilities provides professional rehabilitation services, education, training for independent living in the community, occupational activities, daily rehabilitation program for persons with intellectual disabilities, finding an adequate workplace and support for work engagement for persons with with disabilities, work in greenhouse vegetable production and outdoors.
The main goal of the work at the Day Center is to provide training for people who have been deinstitutionalized and people who live in their own families, and are not covered by any treatment, for: Carrying out household chores; Managing in the social environment; Expedient use of free time; Finding work activities; Self representation.
The Center was defined by the University of Tuzla as a teaching base for students of the Faculty of Educational Rehabilitation.